We want you to be able to work faster and more confidently in your MSP, so we're adding a couple of exciting capabilities to TopLeft.
Work faster- edit tickets in TopLeft
We always want managers and engineers to be able to work faster. Now you can edit general ticket fields in Kanban- such as title, budget hours, due date, and agreement. This could save your team hours every week compared to making these changes in your PSA.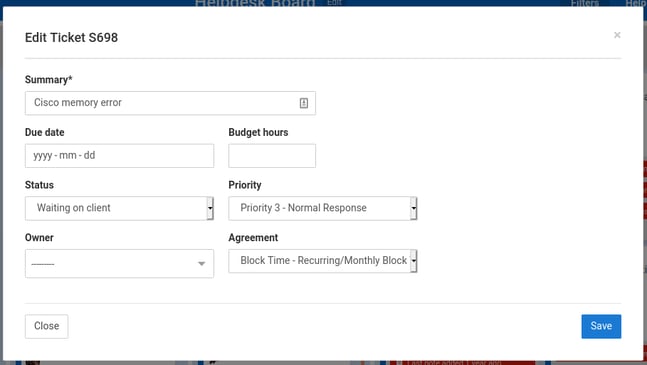 For more details, see the product announcement.
Enhance confidence- rank cards automatically
When you're dealing with emergency tickets or project tickets coming due, you want to be confident you have the whole picture and aren't missing any important information.
Until now, cards on Kanban boards were ordered manually- meaning sometimes low priority tickets could appear above high priority tickets and work with upcoming due dates could be ranked below work with no due dates at all.
But we want you to be confident you're seeing the most important work on Kanban boards. Now Kanban boards can rank tickets automatically. Tickets can be ordered by priority, due date, scheduled time, budget or actual logged hours, to name just a few properties. You can be confident the tickets that are most important to you are always shown at the top of a column.
For more details, see the product announcement.