As a project manager, you know how important project visibility is. You are always working with many projects simultaneously and are full of information that probably no one else has.
To achieve high-level project visibility, you must be able to track your work in one place. That allows you to truly understand what's happening with your projects at any stage, time, and with any level of detail. As an MSP, we know the difficulty of balancing projects, internal tasks, and the challenge of understanding work when using PSA software such as ConnectWise and Autotask.
These PSAs don't give you a way to see the details of more than one project at once. When you see multiple projects simultaneously, you can identify projects that haven't progressed in the workflow recently, identify bottlenecks, over-budget projects, and overloaded technicians.
This post will explain why tackling project visibility right now provides a strong foundation for your team. Moreover, being able to get a snapshot of active projects is critical to keep your team motivated and on track.
What is the price of poor visibility?
Several factors can contribute to the lack of visibility on a project. A project that it's not visible will not be able to run efficiently and successfully, wasting time and money. And the truth is that if you don't bring visibility to your workflow, you will have blind spots, which in time will grow. For instance, small issues can become huge problems when your team doesn't understand goals and expectations.
Furthermore, the lack of project prioritization is usually overloading technicians. This happens because executive management doesn't have visibility into all the projects and tasks the team is working on, which leads your team to multitask, negatively impacting your team's productivity. It's much better to choose a task, start it, work it to completion, and then find the next task to do. As a result, you and your team will be much more efficient. To demonstrate the problem here is a simple game if you want to know how good your multitasking is.
And now it is time that you ask yourself, do I have 20/20 vision? Does your team have a clear understanding of their tasks? Is your team aligned? If you answered no to any of these questions, you are part of the firms that aren't keeping up with large projects. McKinsey reported that 45% of large IT projects in a company run over budget and 7% over time. What is preventing you from marking the task 100% complete on time? We have the answer!
Kanban boards by TopLeft make project visibility possible
Let's start from the beginning; what is Kanban? Probably, when you hear that word, the first thing that comes to your mind is boards where you have columns to indicate the stage of the work. And yes! You are on the right path here. Kanban boards are a visual tool that are effective in keeping teams organized, collaborating, and informed. They allow you to better manage and optimize how your work progresses from stage to stage.
Kanban boards by TopLeft integrate directly with ConnectWise Manage and Datto Autotask PSA; your tickets and tasks are shown as cards in a series of columns that indicate what stage of work each item is in. Kanban keeps managers and engineers in sync by using the same view. With visible workflows, everyone knows what to work on next without a dispatcher filling up the calendar. But most importantly, you can add Kanban to your current workflows and get better visualizations without having to make massive changes to your existing workflow or PSA setup.
Kanban boards for MSPs don't just make it easy to visualize work; they also make it easy to do the work because you can drag tickets between technicians to re-assign and enter time and notes with just a few clicks.
Manage the whole project portfolio, make decisions, and take appropriate actions to ensure the portfolio's overall health. In a single Kanban board, you can track multiple projects or phases. Kanban is the most effective visual portfolio management tool for MSPs.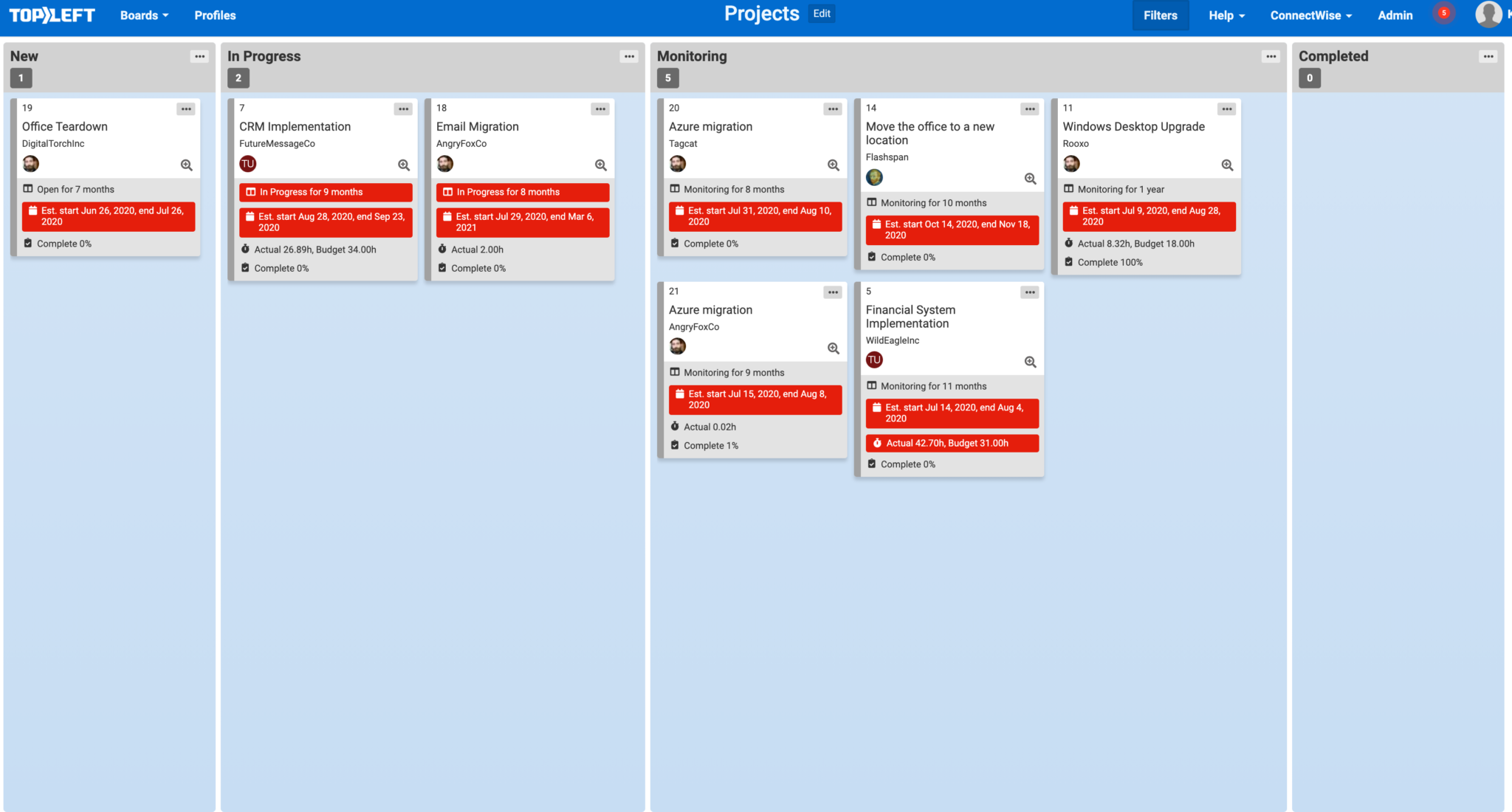 Show progress of all your projects and tasks; thanks to Kanban, you instantly have visibility into tasks progress to determine which work is delayed or over budget.
Wrapping It Up
Visibility is a must! No one likes to be in the dark. Spend less time just pushing paper and nagging about tickets and complex reports. Visualize where things are and deliver projects quicker than the competition without burning your team out.
Alex, one of our customers, had a project with 55-60 tickets that needed assignments and status correction. In ConnectWise, it took him around 45 minutes to complete the job, while in TopLeft, it only took him 13 minutes.
Finally, a tool that helps you understand your work instead of just recording the data and hoping you can make sense of it all. Learn more about how to get visibility into all your projects in a single place.