Kanban Boards For Your Clients Too

TopLeft Kanban boards don't just make your team more effective. They make your client communications faster and differentiate you from your competition:
Knock your clients' socks off with self-serve access to project and helpdesk ticket status

Eliminate "what's happening with my ticket?" questions from your clients

Spend less time in project update meetings with clients


Stop projects stalling when clients forget what tickets and tasks are waiting on them

Offer portal access in your higher-tier plans to push upgrades and increase your recurring revenue
What is TopLeft's Client Portal?
Client Portal in TopLeft gives your clients self-serve access to Kanban boards.

Your clients can:
See which tickets are in any stage of your team's workflow, such as Ready, Waiting, In Progress, or Complete.


See only the tickets, tasks, and projects relevant to them.

See just the right level of detail about the work. Details can include assigned technicians, time budgets and logged time, notes, and due dates and SLAs.

Communicate with you by entering notes on cards or dragging to move cards between columns. The tickets are updated in your PSA immediately.
Client Portal is an add-on available to TopLeft subscribers.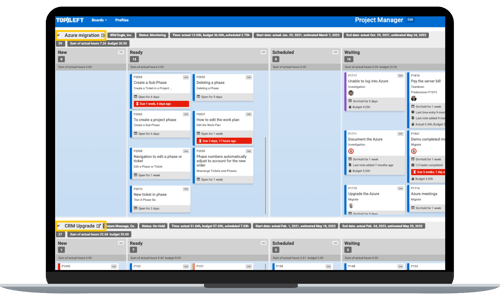 TopLeft is used by 150 MSPs in 11 countries




Pricing in USD
Pricing for Client Portal
Each client company/account using Client Portal needs a license. For each licensed company, there's no limit to the number of people who can have access to TopLeft.
$25 per company/month (paid annually)
or $30 per company/month (paid monthly)
✔️ Give clients direct access to Kanban boards

✔️ Let clients add notes and drag cards to keep work up-to-date

✔️ Control which tickets, tasks, and projects are seen by clients

✔️ Invite unlimited contacts per licensed company
✔️ Customize branding to keep your client experience consistent

or get a free 14-day trial by scheduling a demo >
Already a TopLeft subscriber? To begin using Client Portal, purchase licenses from the Manage Subscription page of your app's settings area.
Need to share Kanban boards with many companies? Volume rates begin at just 10 licenses.
Request a live demo



Got 45 minutes to spare? Let us show you what TopLeft can do for your MSP company. No strings attached.