What is Kanban?
Have you ever used Trello or Asana? Distributing tasks as sticky notes between the columns that indicate your work's progress—e.g., "to do," "doing," "done"—is the main idea of Kanban.
Now imagine if Trello could pull the data from your PSA and display your projects or engineers as lanes and tickets as sticky notes automatically.
Add to this a possibility to do things your managers and engineers do daily in their PSA but with much fewer clicks, plus a couple of important things your PSA doesn't let you do at all (like visualizing multiple projects at once), and you get our tool, Kanban Boards by TopLeft.
Why should you care?
The Kanban approach to managing MSP workflows has proven to reduce ticket backlog, avoid miscommunication, and increase customer satisfaction.
Instead of asking engineers to adjust to it, TopLeft builds on the potential of your engineering team to manage itself. Goodbye micromanagement and finger-pointing. Hello smoother projects and happier teams (and clients).
TopLeft is used by over 200 MSPs in 11 countries




For Project & Service Managers
Do you feel like you spend more time clicking around in your PSA than making actual progress?
And still you have work falling through the cracks because of miscommunication, lack of accountability, and simply not seeing the bottlenecks soon enough.
Here's how TopLeft can help you work faster, deliver projects on time, and keep both your team and your clients happy:
Avoid miscommunication by having your team use the same tool and see the same data

Visualize multiple projects at a time

Prevent large ticket backlogs by limiting work in progress, by project, individual engineer, ticket priority, board (ConnectWise), or queue (Autotask)

Identify and address problem tickets and bottlenecks faster with automatic color highlights

Assign tasks to engineers much faster than in your PSA

Ensure your engineers know what they need to do next without wasting your time looking for free spots in their calendar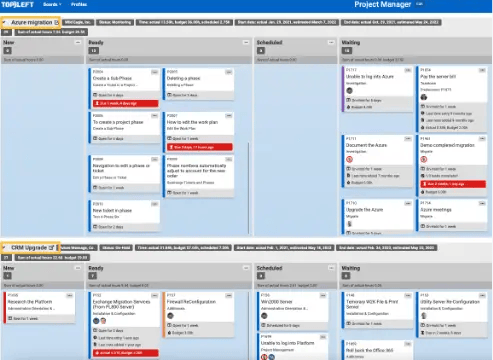 Show the details of all your projects on a single page. No more clicking and waiting while you view a single project at a time in your PSA.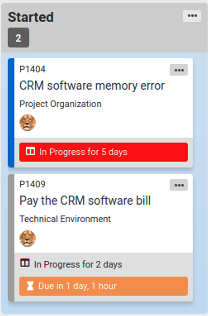 Easily find problem tickets by highlighting stalled, overdue, or overbudget work.

Organize all your work in a single place. It's never been easier to see what work is in progress, waiting, or coming up.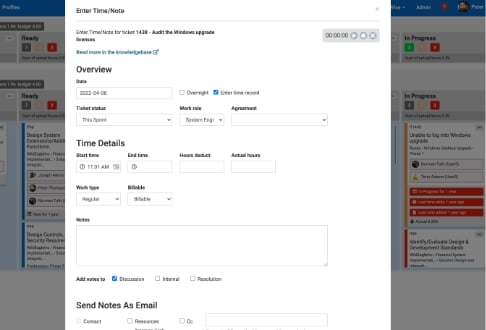 Work faster by entering time and notes directly from the Kanban board.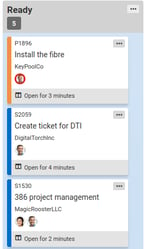 Easily track your upcoming work so you know what ticket to do next.
For Engineers
Do you sometimes feel overwhelmed by the amount of tickets you're currently working on?

On top of that, you get constantly distracted by emails from your manager asking for estimations, calendar notifications, and status update meetings. No wonder you're struggling to complete your work on time.

Here's how TopLeft can help you reduce overwhelm, plan your workload better, and communicate with your managers more efficiently.
Understand what ticket to work on next without having to keep up with a strict calendar schedule

Reduce overwhelm by visualizing today's priorities

Enter ticket time and notes, edit ticket title, due date, and other general fields directly from TopLeft (the data will be automatically synced with your PSA)

Change a ticket status by simply drag-and-dropping it into a different column

Quickly see and fix your problem tickets (and avoid the dreaded "Can I get an update on this?" emails from your clients)

Have a single place to show all your work to discuss it with your manager and team faster and more efficiently

TopLeft works out of the box. You'll be able to make sense of your PSA data within just 30 minutes.
TopLeft turned project management from staring at huge lists, impossible to prioritize, into easily digestible, very visually compelling information.
We are no longer looking at a mountain of data wondering how to break it up. It's already broken up for us by TopLeft, which makes it much easier to see the flow of tickets.
Before, we also weren't able to see projects side-by-side—something we can now do thanks to TopLeft.
Why not just keep using your PSA?



Integrating a new tool into your workflows may feel risky. What if it makes everything worse?
TopLeft isn't yet another stand-alone tool that will take too much time for your engineers to master because it's disconnected from the way they currently do their daily work.
It's just a more efficient way to use the PSA tools you already have, adding on top of what you've already built. Zero risk. Maximum ROI.
PSA

TopLeft

❌

Requires a lot of clicks to assign tickets, identify neglected tickets, tickets at risk of missing SLA, engineers with too much work, etc.

✔️

Lets you access important information with much fewer clicks. For example:

Viewing project details: one click

Re-assigning a ticket: one click

Changing a ticket's status: one click

❌

Doesn't visualize your data

✔️

Visualizes your tickets and tasks by status, engineer, project, ticket priority, board (ConnectWise), or queue (Autotask)

❌

Doesn't allow you to see multiple projects at once

✔️

Allows you to view multiple projects at once and zoom into ticket details with just one click

❌

Doesn't allow you to set limits on work in progress

✔️

Allows you to set limits on work in progress either for a specific engineer, team, or the whole project

❌

Makes it hard to spot bottlenecks and neglected work because the data is presented in basic tables and reports without offering any help to interpret it

✔️

Makes monitoring easier by ranking and color-coding your tickets both manually and/or automatically, based on custom settings
But maybe getting a third-party PM software instead of TopLeft is a better option?
Sure. If you want your project management load to double and lose the benefits of PSA integration.
With TopLeft, it takes much less time for me to communicate, assign, and correct statuses.

I had a project with 55

–

60 tickets that needed assignments and status correction. In ConnectWise, it takes me around 45 minutes to complete the job; while in TopLeft, it only took me 13 minutes.
Alex Anderson, Project Manager Helixstorm, Irvine
I appreciate the ease of being able to input time into tasks. The UI is far easier to navigate than in Autotask.

I also have a more visually friendly view of all projects and tasks with their associated status. It is very helpful to see what's going on project-wise at a glance.
Erik Woodland, Pro Support Engineer Intermix IT, Harrisburg
Request a live demo



Got 45 minutes to spare? Let us show you what TopLeft can do for your MSP company. No strings attached.